What have Poland, Hungary and Slovakia in common?
above 40% of their Internet surfers prefer to use Firefox
Get more info about the above percentages here:
Recently Firefox patched some vulnerabilities but, unfortunately, the job left some holes as we explained here last Friday:
Naturally, the use of Firefox has been increasing, particularly in Europe. Nonetheless, many corporates still use Microsoft Internet Explorer 6 or a few seem to be using IE7.
What is of interest here is how fast these users update. 34% of German users surf with Firefox. Very likely, a large part of this percentage is made up of home-users. What the graphic below shows is that the updating mechanism used by the Mozilla Foundation for its Firefox is working.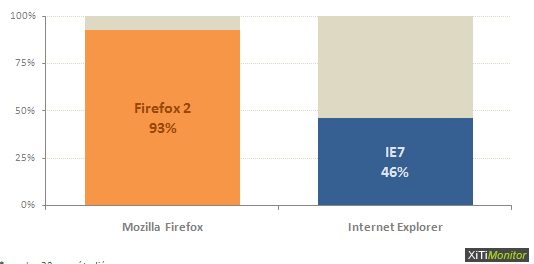 The above graphic was taken from the browser barometer – in French
If you cannot see the above graphic properly, check here:
Firefox 2 adopted by large majority of users – not so with IE7
CyTRAP Labs' take or what could this mean?
The above can be interpreted in various ways (based on user statistics from more than 110,000 web sites across Europe). Obvious is that Firefox users update faster than Microsoft Internet Explorer ones. This could have some security implications.
What worried us is the fact that the web site we support having primarily school children visit has more than 60% of visitors using the Internet Microsoft Explorer, of those the majority use IE6. This does not suggest that information security on school networks is as great as one might hope.
CASEScontact.org – the school blog
Another interesting thought is that if it might not be better to insist to have new PCs be sold without any additional Microsoft programs such as the Windows Media Player or the Microsoft Internet Explorer. Some success we have seen in this regard and the European Commission's efforts should not be underestimated:
b – usage varies enormously and Firefox is running faster than IE7
The above and other data can be interpreted in different ways but it is certain that Internet Explorer users are slower in installing the latest version of the program – IE7 for now – on their PCs.
Who these users are – home users versus those at work – is unclear from the numbers collected. Nevertheless, quite a substantial percentage must be those having IE6 installed on their PC at the office. This is, of course, not good news if we are concerned about security.
xxxxxxxxxxxxxx
MORE INFOS THAT RELATE TO THIS MATTER
– why Alexa.com numbers fail business users
==========>
If this post was helpful to you, please consider stumbling it or subscribing to feeds from CyTRAP Labs. Cheers.
==========>

|