COSO is often used as the standard when choosing an internal control framework. In particular it views the world as follows:
– internal control is a process
– control objectives focus on:
effectiveness and
efficiency of operations, as well as
reliable financial reporting and
compliance with laws and regulations
– useful for management at large
Graphically COSO can be shown as a cube.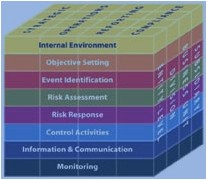 If you cannot see the above cube, click here ==> the new COSO cube (see also Sox-online.com)
Find out more about the COSO framework
In contrast, Control Objectives of Information and Related technology (COBIT) is also used for building and managing internal control systems. However, COBIT has provisions outside the SarbOx regulation. It focuses on:
– approached control by looking at information
– focus is on quality and security requirements for effectiveness, efficiency, confidentiality, integrity, availability, compliance, and reliability of information
– highly useful for management, users, and auditors
To find out more regarding COBIT check out – COBIT framework
CONCLUSION – THINGS TO CONSIDER
An organization is well advised to pay due attention to issues of corporate governance, such as:
– structure and mandate of the Board of Directors regarding risks and controls,
– clearly outlined risk assessment, management and risk response processes,
– effective corporate communication programs – front line understands the mission, as well as
– well-documented control objectives and monitoring mechanisms (control metrics)
If the above issues are carefully addressed with the help of the Internal Control System (ICS) the auditor can accept the documentation relating to these issues as part of the audit engagement.
Auditors may not be able to completely rely on such documentation. Moreover, they must satisfy themselves as to the robustness of the enterprise's entity-level controls. Nonetheless, doing the above work well can save the auditor many hours, and many euros in audit fees can be saved on the client's behalf.
|