2006-12-26 an earthquake off Taiwan's coast disrupted communications across the Pacific region and Asia. X
International phone service was cut off or restricted in some regions, and Internet service slowed to a crawl in much of China after the magnitude 6.7 temblor struck late Tuesday, followed by several aftershocks, damaging as many as eight undersea cables.
The damage to as many as 8 undersea cables underscored the world's vulnerability against such failures in infrastructure.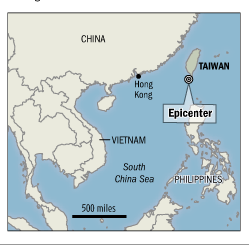 If you cannot get the above chart, click here:
Earthquake – damage to vital undersea links of telecommunication network
PCCW, Hong Kong's largest phone company, was quoted that its data capacity onits networks was reduced up to 50% affecting traffic to Japan, Taiwan, South Korea and the U.S. Repairs were estimated to take 2-3 weeks if not longer.
Local media reported that 36 foreign bank branches in South Korea had been affected.
Four repair ships were sailing to the quake zone, One ship arrived in Taiwan 2007-01-03 (Wednesday) to fix cables and another arrived Jan. 4. Two more arrived later still.
The damage to as many as 8 undersea cables underscored the world's vulnerability against such failures in infrastructure.The damage was as follows:
– 1 cable connecting China to the US had 3 ruptures,
– 1 connecting south-east Asia to the Middle East and Western Europe had two ruptures, and
– 2 cables forming part of the Asia-Pasicic Cable Network had 2 ruptures each that required repairs.
Unfortunately, repairing undersea cables is a difficult task. To begin with, ships drag a large grappling hook across the ocean floor. This enables them to locate the broken cables which are usually about 1,820m below. Once the broken or damaged portion has been identfied, ships have to pull the cable to the surface for further inspection and repair. But first, divers must hook up both ends of the ruptured section of cable from the ocean floor, connect the two ends and test the cable before lowering it to the ocean floor again.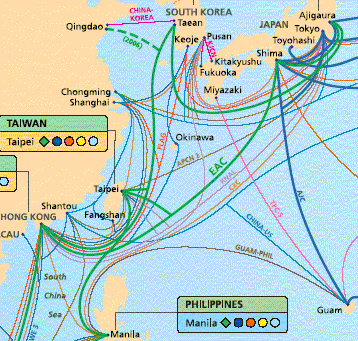 If you cannot see the above chart – check here: Detail of global subsea network in 2005 in Asia
Sadly, the earthquake demonstrated that our knowledge, foresight and budgets for provisioning resilient capacity for operations in the region did not prevent us from being shown that our infrastructure is very fragile. The infrastructure is only as useful as the knowledge, foresight and budgets of those charged with provisioning resilient capacity for offices in-region.
CONCLUSION what we must learn but probably will not
1_ traceroute.org offers a page full of links to traceroute and ping and 'looking glass' route information servers at network centers around the globe.
With the help of such a tool at Singapore one can trace the patch data packets take to a site in China or elsewhere. Because of the earthquake many carriers in the area had to reroute traffic as best they could to reach destination slowing things significiantly for business and private users regardin voice and internet communication.
2_ Just because one has signed up with three network carriers does not mean voice or data draffic is moving via three distinct networks, much less three physically dispersed paths. Unfortunately, economic realities and demanding shareholders encourage inter-carrier 'grooming' agreements to spring up. Sadly enough, regulation in Europe does not require that customers must be notified within 30 days or else…
3_ As this map shows, fiber capacity from China via Russia to Europe is tiny compared to the capacity from Asia to Europe via the U.S. which is nicely shown in the physical undersea cable routes – Submarine Cable Map 2007 worldwide.
This global asymmetry raises a host of issues ranging from economic concerns to security once and make risk management in the outsourcing domain ever more difficult (see above map and telecom infrastructure capacity from India to Europe).
4_ Many networks have single points of failure that are known to a few people only. In some instances these cables belong to competing enterprises. Where this happens failure points may be known to one or two people and until these are revealed it might just be too late to protect the network.
|